The FAUSA Getaway and Annual Meeting, held in the fall of each year in various North American locations, is the highlight of the FAUSA year. The Getaway gives FAUSA members and guests the opportunity to explore North America, learn about FAUSA's activities, raise money for important causes, reunite with FAWCO and FAUSA buddies, and make new friends. Although the Getaways include a business meeting where FAUSA matters are discussed and voted upon, they are also filled with fun and interesting social activities, workshops, speakers, tours and dining opportunities varied enough to meet everyone's interests and tastes.
Getaways have been held in Boston, MA; Provincetown, MA; Red Lodge, MT; Chicago, IL; Washington, D.C.; San Antonio, TX; Seattle, WA; New York City, NY; Longboat Key, FL; Durango, CO; Houston, TX; Charleston, SC; Napa, CA; Cincinnati, OH; Colorado Springs, CO; Niagara-on-the-Lake, ON, Canada; Scottsdale, AZ; and Kansas City, MO. The 2018 Getaway and Annual Meeting is scheduled for October 4-7 in Washington, D.C.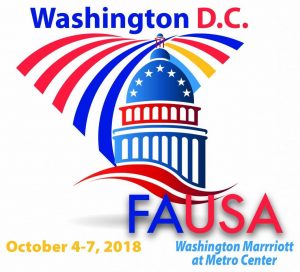 Join Us for
Our Annual Meeting and Getaway
Getaway Registration is now open!!!
Prices go up September 10th.
Do not forget to make your hotel reservation.
When
Thursday, October 4, 2018
-to-
Sunday, October 7, 2018
2018 FAUSA Annual Meeting and Getaway
Gala Fundraising Information
Welcome to our nation's Capital! The organizing hosts have done a spectacular job to ensure we all 'Have a CAPITAL time!' in their hometown.
This information is provided to help you plan for the GALA night of FUNdraising! We are doing some things a little differently in the hopes of enhancing the Auction experience for everyone, while increasing the FUNDraising for FAUSA. Our new status as a 501(c)3 tax-exempt organization will be a huge benefit going forward for our members and friends, and the FAUSA organization.
FAUSA is committed to funding a Development Grant, an Education Award (each of which are administered by The FAWCO Foundation) and our own FAUSA Annual Grant/Banner Project. In addition, we support The FAWCO Foundation Target Project. (For more information, go to www.fawcofoundation.org or www.fausa.org .)
Live Auction catalog (with picutres) is nearing completion! There may be last minute changes or additions but check back often! Start planning your own Getaway!! Sealed bids will be accepted prior to the Live Auction event on October 6. LIVE AUCTION LIST WITH PICTURES
A wall hanging which was auctioned at the FAWCO Interim Meeting in March, has been donated back to FAUSA by the winner, Carol Lalani, FAUSA-Montana. The wall hanging is made of embroidered squares made by women refugees in CRP's Hope Workshop similar to those in the quilt drawing.
One week stay at Club Melia Panama Canal, December 1-8, 2018 - Visit the historic Panama Canal while staying at the Meliá Panama Canal: "a luxurious five-star resort nestled within a lush tropical habitat on the shores of Gatun Lake along the Panama Canal. The resort offers exquisitely appointed rooms with sweeping lake views, a full array of on-site amenities, and plenty of local attractions and sightseeing excursions to choose from."
4 night stay in private home on Carnelian Bay, Lake Tahoe; 3 bedrooms, 2 baths just steps away from a virtually private Lake Tahoe beach; free use of two kayaks and private hot tub! This property has fully equipped kitchen, spacious living room, dining room and outdoor decks. Subject to available dates (excludes holidays) .
One week stay in Charlottesville, VA townhome; sleeps six in 2 bdrms/4 bath end unit; quiet den has pullout queen sleeper; living/dining room, complete kitchen, washer/dryer, a rec room and garage. Townhome offers lots of natural light and mountain views! Nearby to Monticello and many wonderful vineyards.
Enjoy a one-week stay at a 4 bed/4 bath house in Cork City, Ireland overlooking a passage of the River Lee. Sleeps 6 adults, 4 children. Cork is the Emerald Isle's second largest city, boasts a charming waterfront and its own unique history including the Titanic museum.
A memorable getaway to Paris awaits you when arrive at this private apartment in the city center, on the River Seine with views of Saint Chappelle and Notre Dame. Two adults can share a guest room for 4 nights in this ideal location, walking distance to the Louvre, Musee d'Orsay, Pompidou Center, Luxemburg Gardens and other parks.
The Silent Auction will have a theme of Bags and Bling. Gently used or new handbags, unique jewelry pieces, accessories or handcrafted creations are encouraged. A nice collection of designer bags has already been collected (Tumi, Coach, Burburry, Mulberry, Vera Bradley). 2018 SILENT AUCTION ITEM INFORMATION SHEET
Themed Baskets - Smaller items will be bundled into (5) five Themed Baskets (items beginning with an A, B, C, D and E (Entertainment Tonight). You can be creative with this one!
Another opportunity for FUNdraising at the Gala will be Fill Them UP: 50 envelopes numbered 1-50 with the equivalent $ amount inserted into each envelope (#1=$1, #10=$10, etc.) This method may suit those who wish to make a easy donation in addition to (or in lieu of) bidding on auction items. More than one envelope can be filled per attendee and the option to donate ANY amount exists!
The FAUSA Quilt is completed after many, many hours of handiwork by our Board member, Leslie Nelson and Kay Miller, FAUSA-Michigan! The delicate scrolling, leaves and rosettes in the quilting are works of art themselves and create the perfect final touch to the blocks which are hand-embroidered by refugee women in the Hope Workshop, the handicraft cooperative of Collateral Repair Project (CRP). The proceeds of the drawing will go to CRP's Hope Beyond Displacement project, the current FAWCO Target Project. With a finished size of 52" square, the `Visions of Hope' quilt will be a stunning addition to the lucky winner's home. Tickets to enter ($20 each or 6 tickets for $100) to win this unique piece may be available online. Stay Tuned and spread the word!