FAUSA members and their children are eligible for education awards from The FAWCO Foundation.
The FAWCO Foundation Education Awards Program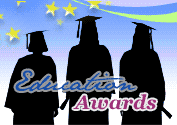 Created by and for FAWCO clubs, the Awards Program recognizes and honors the academic excellence and all-around achievement of the children of FAWCO and FAUSA members, as well as of FAWCO members themselves. FAWCO aims to promote international understanding and good will by giving annual awards for study, in the US or abroad, at high school, undergraduate and graduate levels to these well-educated, linguistically-gifted and internationally-oriented children and adults. Therefore, every year The FAWCO Foundation recognizes their unique gifts and honors their excellence by giving grants to the most outstanding to help them pursue their education.
Since the first award was given under the aegis of The FAWCO Foundation in 1972, many hundreds of thousands of dollars have been awarded to over 150 recipients. Every year the program is modified, according to funds available and to the changing needs of members and members' children.
Who is Eligible?
The FAWCO Foundation Awards Program is open to all FAWCO and FAUSA members and their children, regardless of nationality and regardless of whether or not the affiliated Club has made a contribution to The Foundation's programs. The children of the members, and the members themselves, of the Board of Directors of  The FAWCO Foundation are not eligible for awards, in conformance with IRS rules and regulations governing 501(c) 3 not-for-profit corporations.
More information about current awards and award applications can be found by clicking here.
Giving Back To Its Members!