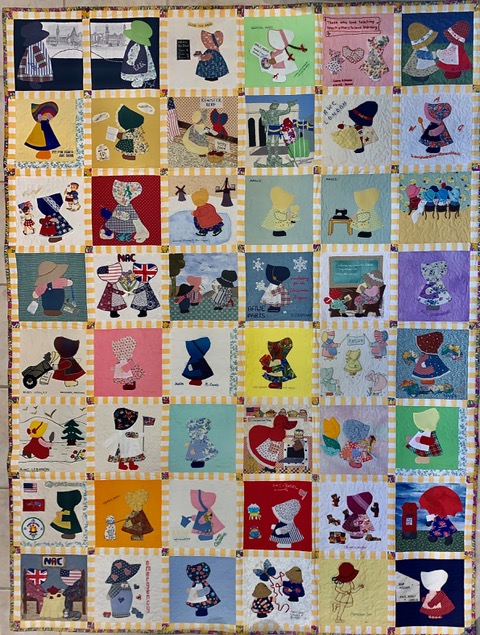 FAUSA hosted its first virtual auction, 'FAUSA's Got Motion...and More!' over the course of a week for the 2020 Annual Meeting and Getaway fundraiser. FAUSA and FAWCO members donated gifts of talents and things for both this silent and the live auction held the evening of the Annual Meeting. The tradition of auctioning a beautiful handmade quilt continued with the donation of a quilt by Jane Indreland.
Through the use of Zoom and an online auction platform OneCause, we reached many more of our members virtually and without incurring meeting or travel expenses. Participation by many members who had not previously attended a Getaway increased so the FAUSA 'community' continues to grow by reaching out through cyberspace!
A second new feature was also added, 'R(aise) Up for 2020!', a series of successive donation challenges were set, met and over achieved throughout the fundraiser evening.
An astonishing $18,000 was raised through the above efforts and generosity of so many. A huge shout out to all who participated.
Examples of a few of the items that were included in the auction appear below.
Handwoven poncho
Italian cooking classes
Intro to French cheeses
Beehive inspection
Italian garden tour
Stuffed cabbage cooking class
Piano lessons
One week stay in a Maine cottage
Website design
Bailey's coffee liqueur class
Burberry handbag
Topaz tennis bracelet
Louis Vuitton men's wallet
Signed etchings of San Francisco and Nuremberg
Authors' discussions of their books
Beer and cheese tasting class
Handmade wooden cheese board, inlaid with turquoise and lapis
Sommelier service for a dinner party
Knitting lessons
Hand knit shawl
Handmade lap quilt for babies
Digital family and pet portraits
Masks masks masks!